Last autumn we asked 58 Finnish and international social influencers about their views and experiences on disinformation and influencing through information. The vast majority sees disinformation and influencing through information as a significant problem among influencers and content creators.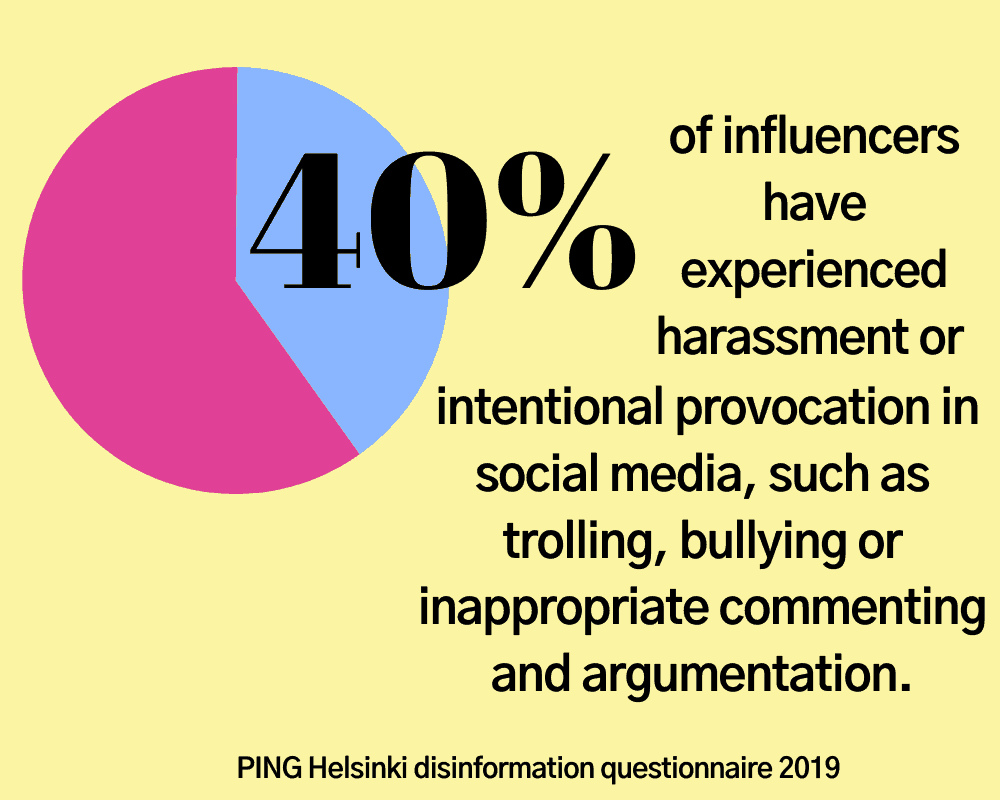 According to the survey, 98% of social media influencers believe that also false information is spread through social media influencers. Even though all influencers feel responsibility for sharing true and factual information, as many as a quarter of respondents admit they have shared anarticle, video, or other content without reading or watching it completely.
The forms of disinformation that aremost often encountered in social media are taking things out of context and incorrect health claims. Also, most of respondents say they have encountered vilification of minorities and polarization of people in discussions on social media.
Social media influencers are trusted especially by young people
Social media influencers are the media of today. The number of followers of the most popular social media influencers already exceeds the readership of traditional news channels. Influencers play an increasingly important role in what kind of information and content we see in social media about things happening around the world.
Young people, in particular, rely more on social media and recommendations from influencers than traditional advertising. Half of those under the age of 25 say that the actions of an influencer have also social significance. That is why it is important that all influencers are aware of the impact they have on their followers.
At PING Helsinki we have worked closely together with Media Pool to raise awareness of the social role of influencers. Together, we have published a guide called "Fake or fact? The handbook of a reliable social media influencer", which provides tips and procedures for recognizing false information, fact-checking and maintaining and enhancing your own reliability. The handbook can be read here.
Are you a social influencer? Here are 5 reasons why you should read the guidebook
Fake or fact? The handbook of a reliable social media influencer …
Helps you understand your responsibilities and the importance of reliability

Provides tips on how to identify fake news and other disinformation

Supports you in your work in social media and growth into a reliable and competent social media professional

Lists reliable sources for fact-checking

Gives you confidence to make content on subjects that might be difficult
PING Helsinki working towards more reliable and trustworthy influencer marketing
Our work with the ethics of influencer marketing started already in 2016 with the publication of the PING Ethics, which is a joint ethic code for all content creators and companies. It aims at promoting the fairness and transparency of influencer marketing. All the legislation, regulations and instructions as well as established practices of the industry are compiled in the code. 
By signing the PING Ethics code, the influencer or business can show its audience, customers or partners that they are committed to engaging in responsible and open influencer marketing.
Social media influencers' role in sharing news and reliable content was discussed also in a panel discussion at the Matka Travel Fair, organized by PING Helsinki, Mediapool and HybridCoE. In the panel discussion, international social media influencers Abigail King (Inside the TravelLab) and Melvin Boecher (Traveldudes) as well as Jenni Virtanen, editor of Helsingin Sanomat, shared their personal experiences with disinformation and influencers' responsibility. You can watch the discussion here.